Equipment
For measurements on cables it's not sufficient to have only test equipment. You need also cleaning tools, so you can work with clean connectors. But not only the connector of the test lead must be clean, also the connector inside the ODF, where you want to make the measurement. We always clean our connectors before each measurement. These fore we use technical alcohol, compressed air, Q-tabs, dust-and lint-free paper towels and cleaning tapes to remove the remaining dust from the connectors. For connectors we can't reach easily (pigtails in a closed patch panel), we use special end face cleaner. For the evaluation of optical surfaces, we are using a connector microscope (4oox), with various adapters.

We use special converters to build a mini-network over two fibers with two laptops. The OTDR-traces can be transmitted and evaluation of the traces (splice values) can start immediately with FiberDoc. This makes cable switching at night very convenient. A data transmission over the Internet is not necessary and very often not possible. The converters can easily be used well over 100 km of cable length.

For communication between the measuring points we use fiber optic headsets. Therefore only one fiber is needed and the stereo headsets with microphones allow free hands and very good communication, even in a very noisy environment (air conditioning, fans, etc.).
We have our own splicing machine to make repairs, e.g. for change of pigtails or just make the splice of the pigtail again.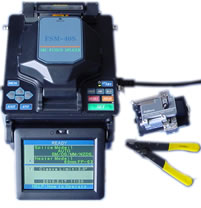 Fusion Splicer Fujikura FSM-40S
Cleaver CT-07, Miller stripper
Unsere Geräte:
1 x OTDR, Agilent N3900A/N3916AL, 1310/1480/1550/1625nm
1 x OTDR, Agilent N3900A/N3914AL, 1310/1550/1625nm
2 x Power Meter, EXFO FOT 932-4
1 x Light source EXFO FLS-5834 (SLED)
1 x Mainframe, EXFO FTB-400
1 x PMD Module, EXFO FTB-5500B
1 x CD Module, EXFO FTB-5800

2 x Fiber-Optic Talk Set, EXFO
2 x Converter, Alcatel
2 x Notebooks, WLAN/WAN

2 x Microscope, 400x, EXFO / Westover
1 x Fusion Splicer, Fujikura FSM-40S
2 x Visual Fault Locator (red light)
All instruments are calibrated according to the manufacturer's recommended intervals. A copy of the calibration certificates may be attached to the documentation.